Spice up your at Home Theater with Today's Leading Technology.
One of the most popular aspects of owning a high-end luxury home is the ability to create your very own home theater room. Whether it's an attic conversion, basement rebranding, or simple sprucing up of an already dedicated entertainment space, your goal is the same—bringing big screen (or big stadium) magic into your home.
For many homeowners, recreating a movie-going or major sporting or concert event experience in their home can prove to be a daunting task. From the size of your television or projection screen to the surround sound to the add-ons, accessories, and furnishings, plenty goes into creating an at-home, top-of-the-line home theater experience.
Of course, we realize that some homeowners are the do-it-yourself type. Replacing or adding a few components here or there requires less effort. Even if you're not a cinephile or audiophile, this approach is easy to take on your own.
Others opt to have someone else do it for them. Depending on your space's size and how large you want your home cinema to be, we suggest professional consultation and installation for a ground-up build.

In either case, it's beneficial to have an understanding of the current technology. You want to ensure you get precisely what you want in your home theater regardless of who ultimately installs it.

From the sound to the video to the equipment you need to tie it all together, let's explore the best technologies to add to your home theater.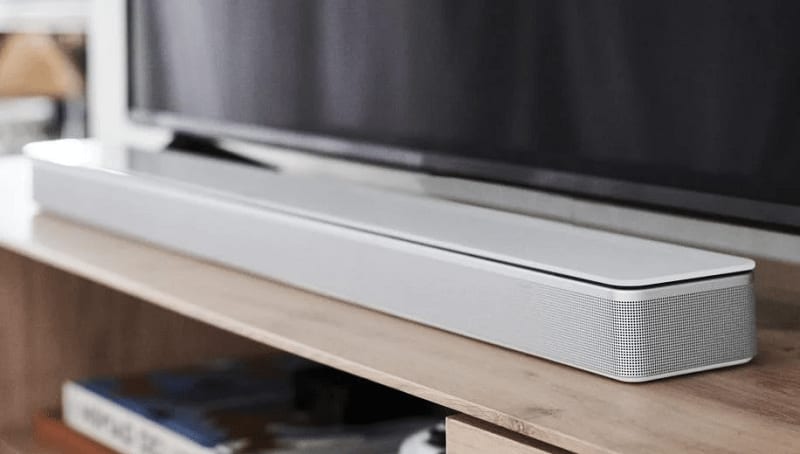 Credit: AV Forums
Surround Sound
First, you might be wondering why we would start with sound and not the actual viewing screen. A common misnomer about home theater is that it's about the viewing experience. While that is undoubtedly a vital component to getting the best in-home experience, it's secondary to the transformative experience of sound.

It's not necessarily images at a movie theater that capture your attention, but the sound of the film surrounding you on all sides that heighten your experience. With sporting events, the roar of the crowd or sounds of the action on the field or court is often what brings us to our feet. The swelling crescendo of music from a band, singer, or orchestra is what makes a concert so memorable.
To recreate these immersive experiences at home, you need sound systems that put you in the middle of the action from the comfort of your recliner. Prepackaged systems such as the
Bose Soundbar 700
or
Sonos 5.1 Beam
fill a small space or DIY setup quite nicely. Both are available for under $2,000 and come with the ability to add additional components based on your needs.
For a premium experience that's perfect for larger, customized home theater rooms, the
Klipsch 7.1.4 Dolby Atmos Home Theater System
doesn't come cheap at $6,510, but it satisfies any audiophile's need for high-performance sound. If you're willing to drop upwards of five figures on your surround sound system, French audio brand
Focal's Chora's
speakers have few equals.
AV Receiver
The audio-video receiver is perhaps the most technically complicated and least accessible aspect of your home theater setup. Audio may not arise from it, and it doesn't produce video, but it does do all the heavy lifting. AV receivers bridge the gap between all of your inputs and outputs to ensure your home theater system looks and sounds phenomenal.

Since AV receivers are so important, we recommend you perform extensive homework or consult with a professional before purchasing this particular component. AV receivers aren't exactly plug-and-play like some TVs and all-in-one home theater systems—there are plenty of variables that determine the best AV receiver for your setup.

That said, there are a few things to look for if you want to DIY your home theater. First, seek out a multi-channel receiver that can accommodate your current speaker setup and any future additions. Next, ensure the receiver is input-friendly—you can never have too many inputs to accommodate all of your streaming, gaming, cable, or video playback devices. Finally, if you want flexibility, make sure it's Bluetooth capable. For more flexibility, ensure it has Wi-Fi. For the best in sound, you'll want it to handle Dolby Atmos.
So, which AV receivers fit these basic requirements? Receivers don't come cheap, but if you want a simple, entry-level device that will put you on the track toward your home theater dreams, at $279, the
Sony STR-DH590
is all you need. Want a little more oomph in your home audio and video capabilities? The
Denon AVR-X2700H
($849) or
Yamaha RX-A2080
($1,699) are perfect upgrade choices.
If money is no object and you desire to be the envy of everyone in your neighborhood, the
Denon AVR-110
—priced at $5,499—should be the only AV receiver on your list.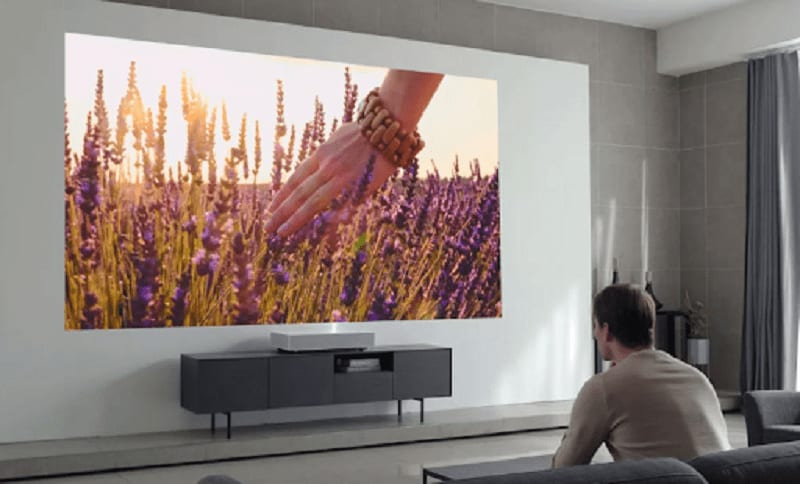 Credit: Projector Reviews
Screen
The most straightforward aspect of your home theater setup is the screen—it's often the one component purchase many of us make on our own. But selecting a home theater screen is a bit different than choosing one for your living room or bedroom. The biggest question you'll face is whether to invest in a projection and screen setup or a more traditional standard television. The answer ultimately comes down to the space you have and your viewing habits.
Intimate, low lit, dedicated home theater spaces that can accommodate a truly big screen (8 feet or larger) often beg for a projection model—it's honestly the best way to recreate the cinema experience in your home. It's a no brainer for those that use their theater room to exclusively watch movies.
There's less sticker shock with physical TVs—though the sheer volume of choices can be just as overwhelming. It's easy to get lost in all the variations currently available from size to picture quality to technology. Two pieces of insight to consider is that 4K OLED (Samsung's version is QLED) is presently the best tech available, offering the best picture quality. Second, when picking a screen size, consider going one size up from your initial plan.

Credit: Salamander Designs


Furniture
It may not carry the same level of tech as your speakers, receiver, or TV, but a major aspect of the home theater experience involves the comfort and ambiance in which you enjoy a movie, concert, or sporting event. Remember how excited you were to first settle into a leather reclining seat in a movie theater? Imagine that same feeling, at home, all the time.
At the very least, basic seating should include motorized recline, cup holders, and built-in USB ports, such as those offered by
Salamander Designs
. If you're looking to go upscale to complement all the high-end tech in your theater room, brands such as
Fortress Seating
and
Elite Home Theater Seating
will fit the proverbial bill.
Seatcraft
kicks it up a notch with sofas and loveseats that include built-in LED lighting, USB charging stations, and a lighted console.
Finally, whether it's to block out ambient light or create a full-fledged theatre-going experience, no at-home cinema is complete without motorized drapery and dimmable, smart lighting. Brands such as
Lutron
provide customizable solutions that will help you complete the home theater of your dreams in style.
While DIY is an option here, partnering with a trusted AV installation company will help ensure that your entire setup is easily integrated and controllable, from the technology to the ambiance to the ability to add future components.
Ready to make a move to Toronto? Allow
Barry Cohen Homes
to serve as your guide to the Toronto luxury real estate market. Whether it's the affluence and prestige of Bridle Path Estates or the beautiful village enclave of Forest Hill, our expertise ensures you'll find your perfect Toronto home.