A SPOTLIGHT ON THE GORGEOUS JAPANESE-INSPIRED TRUE OFURO WOOD SOAKING TUB FROM AQUATICA
After a long day, few things feel better than a long relaxing bath. For many, a long soak is reserved for a spa day or a hotel stay, but with a Japanese-inspired soaking tub, you can create this spa-like environment right at home and enjoy this indulgence every day.
A small, deep bath that is the newest must-have in luxury bath fixtures, Japanese soaking tubs are designed with a built-in bench seat for the ultimate bathing comfort and flaunt East meets West aesthetics. Japanese soaking tubs are extremely popular among Zen enthusiasts, as they serve as a tribute to the Feng Shui spirit.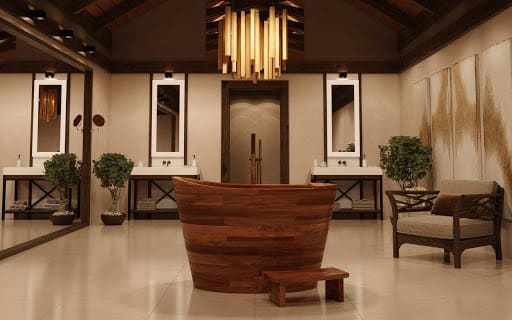 ​​​​​​​Aquatica's True Ofuro bathtub is made of thick American Walnut wood, combining beautiful modern styling with a nod to the Japanese heritage of the tub. It is made for seated soaking, even for bathers six feet tall and taller, ensuring full body immersion and providing comfort with no cold spots, no attempt to stay underwater and no uncomfortable head resting on the edge of the tub. The True Ofuro offers a built-in head rest for an even more relaxing experience as well as a solid wood step and tray to help shorter or older bathers to enter and exit the tub with ease and comfort.

The rich dark wood is warm and tactile and its own organic oils keep the tub waterproof while preventing water damage and cracking. The rich tones of the walnut add an earthy design touch to your bathroom, creating that spa-like atmosphere often reserved for a luxurious hotel room or spa visit. Five woods in additional to walnut are available as well, and the True Ofuro is also available in Aquatica's AquateX stone-like material in black, grey, brown and more to suit your design tastes.

​​​​​​​Every element of the True Ofuro is ergonomically designed, with its Japanese heritage at its heart. It is a handcrafted marvel that will instantly improve your relaxation routine as well as up the luxury factor of your bathroom and add a unique design-oriented element to your home. If youre in the market for contact Barry Cohen today. Find and more.


​​​​​​​